PRODUCTS CATEGORIES
CONTACT US
Tel: 0086-579-87572159
Fax: 0086-579-87115301
Mob.:13967937790
Email:amyzhou@chinakambotec.com
http://www.chinakambotec.com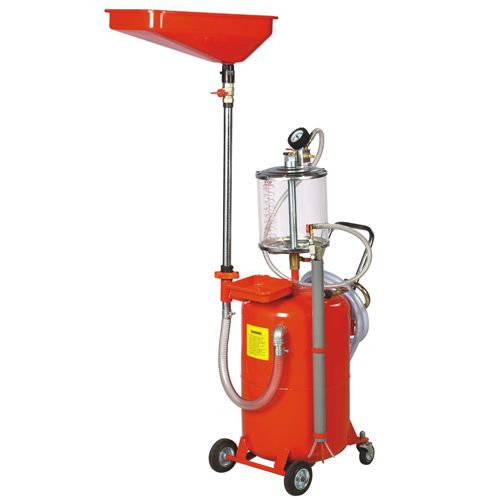 Name:OIL DRAINER
Model: KB-ODT-E
Specification:
Sucking speed:0.6-1.6L/min
Collecting height:1.85m
Work pressure:7-8ba
Tack capacity:65L
Capacity of measuring cup:9
Draining pressure:0.5bar
Length of suction pipe:1.4m
Length of drainpipe:1.9m
Total sucking capacity:40-50L
Total weight:32kgs
Exterior dimension:480x500x1850mm
The multi-functional oil drainer has three functions:sucking,
collecting And filling oil.
Function:
It is easy used to drain oil in low pressure.
The oil drainer makes use of compressed air as power to produce
vacuum in order to achieve its sucking function.
It is a safe, convenient and quick machine.It never bring spark to you.
This machine is mainly used in garage, cars beautification, and
cars producing,etc.
It can collect and fill oil for cars or other machines to achieve its
fixed or movable working functions.
The movable body could meet your needs of using it in different
places at any time.
The outside-layed cursor shows you the height of oil clearly.
The adjustable oil tray adapts to any types of cars.
Trashy oil can be sucked by minus pressure that produced by air,
and also can be collected by gravity.
Each machine is equipped with different specifications of nozzles.
The transparent visual messuring cup is convenient to observe oil.
The tool tray can be disassembled.
Notice:
The temperature must be below 70-80 when draining oil.
the highest pressure is 0.5bar when draining oil.
Never use it for corrosive products.
Item Number: KB-ODT-E
Pcs/Ctn: 1/2 / 1/2
G.W./N.W.: 25/23kgs / 11/8kgs
Dimension: 79x45.5x53cm / 47.5x38.5x58.5cm
Q'TY/40': 183pcs / 183pcs

Copyright © 2008-2013 Yongkang Twinkle Industry Co.,Ltd. All rights reserved. manage Support:www.it579.net